Discover® LITHIUM BLUE LiFePO4 Premium Series batteries offer BMS controlled safety, long life, lightning fast charging performance and real-time Bluetooth access to battery State of Charge, voltage, current, temperature status. LITHIUM BLUE batteries reflect Discover's Design for Excellence philosophy, incorporating suitcase style carrying handles, terminal protection and field serviceable fuses. LITHIUM BLUE batteries are safe, easily to install and parallel for more capacity.
Discover Lithium BLUE Benefits and Features
Lithium BLUE batteries charge faster, last longer, run longer, and are lighter weight than traditional lead-acid batteries. They have a carry handle, are easy to install, require no special tools, and feature a user-replaceable fuse.
Lithium BLUE Bluetooth App
LITHIUM BLUE LiFePO4 batteries feature a Discover Bluetooth® App that gives real-time access to battery State of Charge, voltage, operating current, temperature, and other operating information.
Built in Handle
For easy carrying.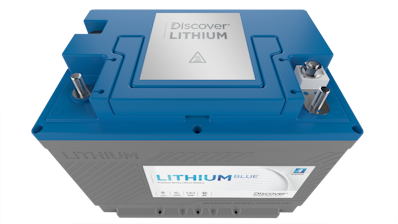 Protect Your Investment
LITHIUM BLUE has a field serviceable fuse to protect your investment from user and application abuse or misuse.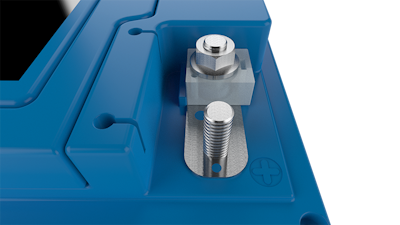 Are there any special tools required to install a LITHIUM BLUE?
---
---
Are LITHIUM BLUE batteries safe to install in my boat or RV?
---
---
Is my charger compatible with LITHIUM BLUE?
---
---
Can LITHIUM BLUE be charged with an alternator?
---
---
Can I replace deep-cycle lead-acid batteries with LITHIUM BLUE?
---
---
Will LITHIUM BLUE install in the space where the lead-acid batteries are?
---
---
Can I use LITHIUM BLUE to start my engine?
---
---
Can I install LITHIUM BLUE in parallel?
---
---
Can I install LITHIUM BLUE in series?
---
---
Do I need to add any additional fuses, or is the user-replaceable fuse on the battery good enough?
---
---
Can I use LITHIUM BLUE in temperatures below 0°C (37°F)?
---
---
How many LITHIUM BLUE batteries do I need for my boat/RV?
---
---
How can I see how much charge my LITHIUM BLUE has?
---
---
Are there any special requirements to store my LITHIUM BLUE?
---
---
The LITHIUM BLUE Advantage
What's in the Box?
Watch as we compare Discover's LITHIUM BLUE with other similar lithium batteries. Then, we tear them down, exposing the differences in design, construction and materials and discover that not all batteries are created equal. Armed with this knowledge, you'll be able to make a better, more informed decision when purchasing your next lithium battery.
Product Registration
Discover Lithium BLUE offers an industry-leading warranty to ensure years of trouble-free, high-performance operation.
Click on the REGISTER PRODUCT button and use the form to register your product(s) to validate your warranty.
2021 IBEX Boat Show
Watch as we explain the advantages of upgrading to our Lithium BLUE battery for Marine applications.
Bob's No Wake Zone Boating Radio Show
Listen as we discuss the benefits and features of Discover Lithium BLUE for Marine applications.
Smart Energy Lab Lithium BLUE Review
Watch as Glen from Smart Energy Lab gives an in-depth review of Discover Lithium BLUE batteries.