Aerial Work Platforms (AWP) / Mobile Elevated Work Platforms (MEWP) operate in some of the most demanding conditions - extreme temperatures, high operating currents, and intermittent charging. Safety and downtime avoidance is critical to productivity and staying on schedule.
Discover offers a complete range of lead and lithium batteries that are non-spill and maintenance-free to enhance equipment safety and productivity.
Improve productivity and safety by removing the hassle of working with flooded lead-acid batteries.
| | | FLOODED LEAD-ACID BATTERY |
| --- | --- | --- |
| | | Requires periodic watering |
| | Sealed, suspended electrolyte | |
| | | Released and vented during charge |
| | | |
| | | |
| | | |
| | | |
| | | |
| | | |
| | | |
| | | |
DRY CELL Benefits
Spill-Proof & Non-Gassing

Clean and easy to use

Faster charge times and no equalization required

Lower self-discharge rates

Better high-current discharge
Find Your Battery
Prevent corrosion repairs from battery off-gassing and electrolyte spillage. Make equipment operation, training, and service safer with DRY CELL AGM maintenance-free batteries.
The DRY CELL AGM Advantage
Sinoboom has supplied its platforms with DRY CELL batteries within the Asian market since 2018, offering a maintenance-free battery with top performance and reliability.
BatteryHouse provides customers with DRY CELL maintenance-free batteries to address costs associated with the maintenance and upkeep of Flooded Lead-Acid batteries.
Acid mixing technology combined with electrochemical advancements improves starting battery performance, reliability and life.
DRY CELL AGM batteries are nonspillable and maintenance-free, with purpose-built features that deliver reliable performance and are simple for use in MEWP/AWP equipment.
LITHIUM PROFESSIONAL
Key Benefits

10X The Life Of Lead-Acid Batteries*
Up to 2x the runtime of a lead-acid battery
100% usable capacity
Lightning fast charging
Integrated self-heating
Communicates SoC, voltage and temperature limits with charger**
Port connects the battery to LYNK Gateway
Field replaceable fuse protection
Parallel more capacity - up to 20 batteries**
IP 67 rated
Maintenance-free
*BCI-06
** LYNK Gateway
Exceeds OEM quality requirements
Global service and support
Innovative technology
Optimized for start-stop vehicles
Partial state-of-charge operation
Micro-cycling and key-off loads
Up to 5x faster than new lead-acid batteries
Up to 10x faster than aged lead-acid batteries
2x faster than C/2 rated lithium batteries
Opportunity charge at 1C rate anytime, regardless of SoC
Surge power for inverters and traction motors
Up to 3C peak power discharge rate
1C continuous discharge rate
Up to 50% more energy efficient than a lead-acid battery
Up to 98% round-trip efficiency
Real-time optimization of the charge rate
Up to 25% faster recharge from 0% to 100% SoC
Easy to parallel more capacity
Linear scaling of charge, discharge, and peak capacity
Parallel up to 20 batteries per LYNK device
Fast install. No special tools
Drop-in deep-cycle lead-acid replacement
Reliable, Safe, Certified
LiFePO4 is safe
Maintenance-free
UL94 VO flame retarding case and cover
IP 67 rated
Connects battery string to LYNK gateway
Multi-battery BMS communication
At-a-glance multi-color status LED
Integrated self-heating
Charging from -20oC/-4oC
The LITHIUM PROFESSIONAL Advantage


Purpose-built OEM battery with a proprietary high-current BMS, extreme temperature operation, and LYNK gateway functionality for system component integration.
Find Your Battery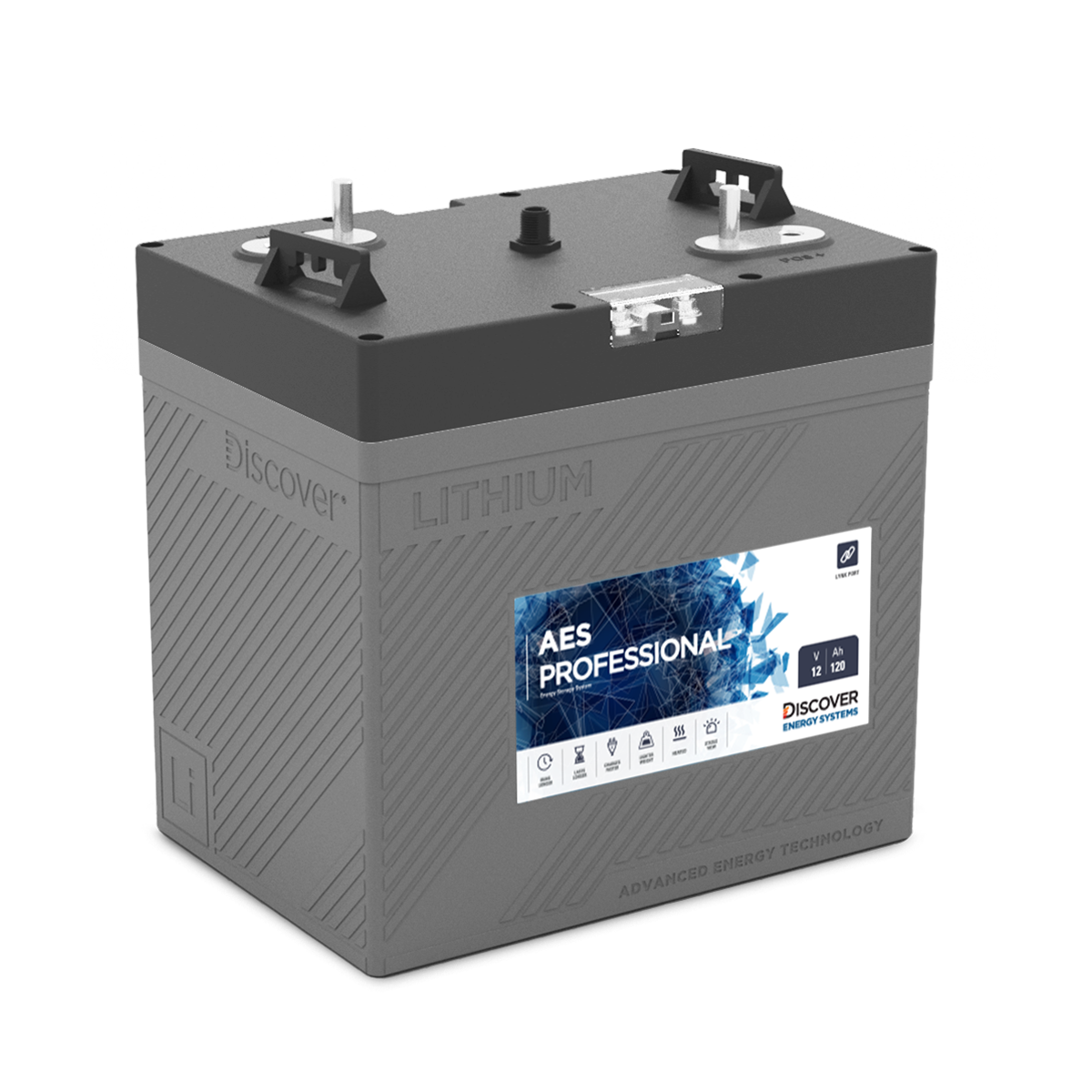 DLP-GC2-12V
12V 128AH
LITHIUM PROFESSIONAL Accessories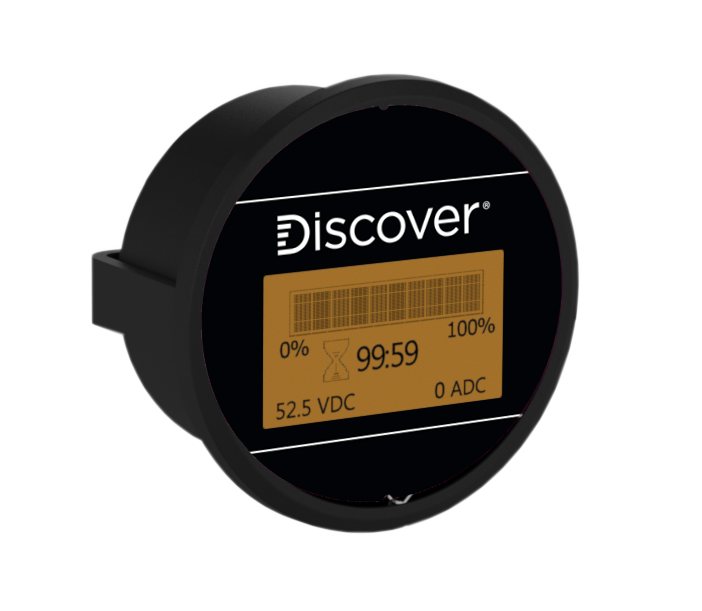 CAN Bus Battery Discharge Indicator (Type A) 950-0044
COMPATIBILITY:
AES LiFePO4 batteries: 12-48-6650, 12-36-6700, 14-24-2800, 14-36-3000, 14-48-3000, 12-36-6700
LITHIUM PROFESSIONAL batteries: DLP-GC2-12V, DLP-GC2-24V, DLP-GC2-36V, DLP-GC2-48V
The 950-0044 is a fully featured Battery Discharge Indicator (BDI) that communicated with AES LiFePO4 Mobile Industrial and LITHIUM PROFESSIONAL batteries and presents visualization by LCD of the battery's State of Charge, Voltage, Power, Charge and Discharge Energy, Battery Firmware, and Time to Go.
CAN Bus Battery Discharge Indicator (Type B) 950-0039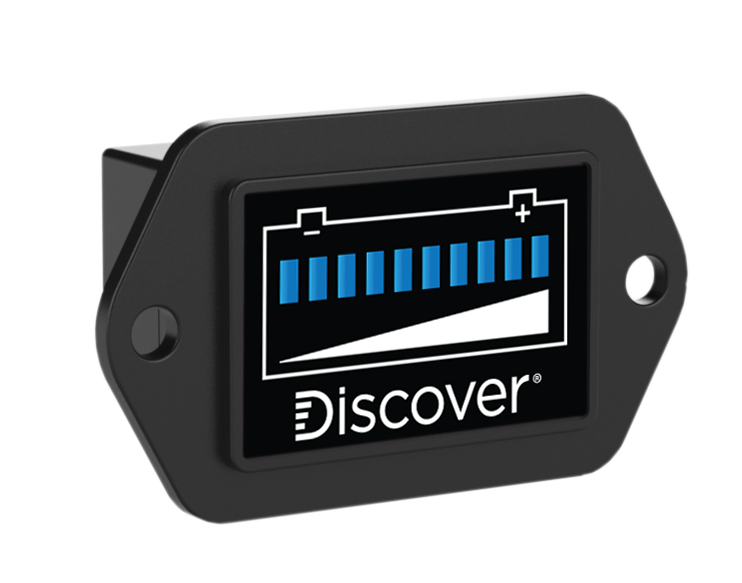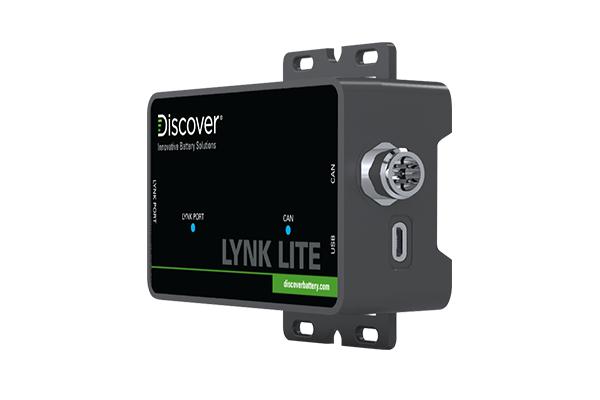 LYNK LITE Communication Gateway
LYNK LITE Communication Gateway aggregates and displays the State of Charge for LITHIUM PROFESSIONAL batteries in a compact package suitable for in-line integration in motive machine battery compartments.
LYNK II
ADVANCED INTEGRATION - FASTER CHARGING
Unlock the full potential of a LITHIUM PROFESSIONAL Battery by enabling the BMS to optimize and dynamically manage the charge configurations of the world's best industrial chargers and mobile inverter chargers. The LYNK PORT on each LITHIUM PROFESSIONAL battery allows for real-time closed-loop communication between multiple batteries and with a charger, or inverter charger, using LYNK II to aggregate and communicate State of Charge..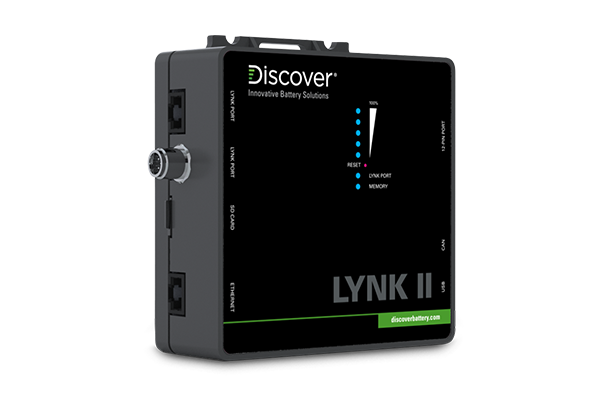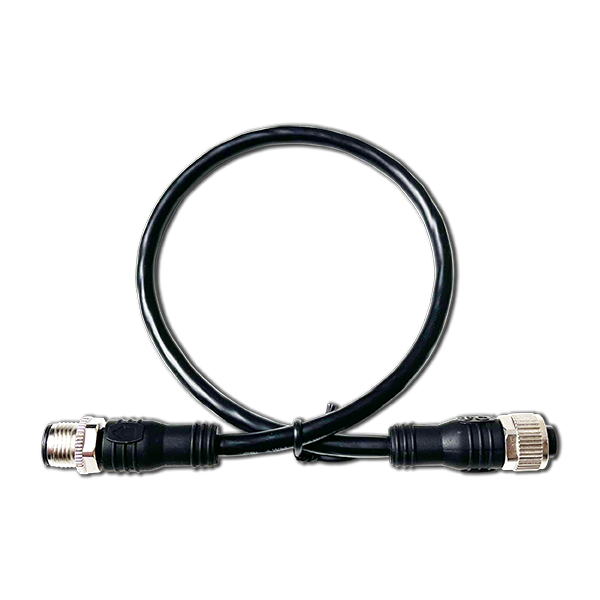 Additional Accessories
IP-65 rated network cables suitable for wet and humid environments are available for IP-67 rated LITHIUM PROFESSIONAL batteries.
DLP B2B-400 (COMM Cable 0.4 meters / 15.75 inches) |

PN: 950-0035

DLP TOL-7600 (COMM Cable 7.6 meters / 299.25 inches) |

PN: 950-0037

DLP TOL-1800 (COMM Cable 1.8 meters / 70.87 inches) |

PN: 950-0036

DLPT Connector (COMM T Connector) |

PN: 950-0041

DLP T Connector (COMM T Connector) with DLP B2B-400 (COMM Cable 0.4 meters / 15.75 inches) |

PN: 950-0038